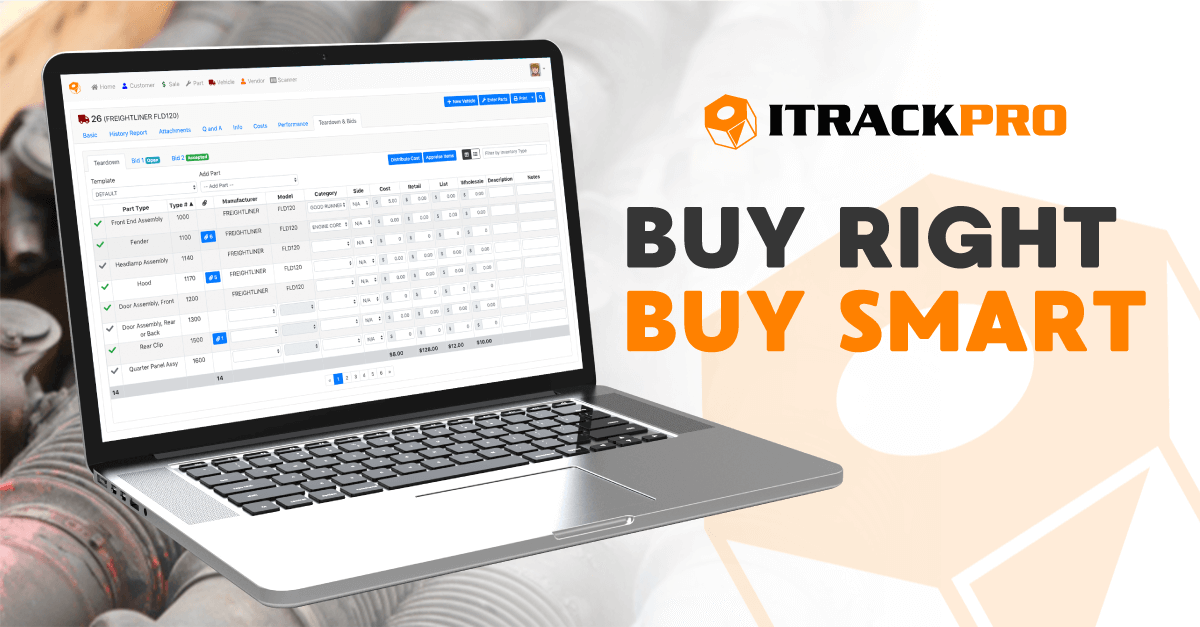 Buying Right is Essential for Profit – ITrack Pro Makes it Easy!
---
---
Buying Right is Essential for Profit – ITrack Pro Makes it Easy!
Updated 05/16/2022
How do you know what prices the market will support for your heavy-duty truck parts and vehicles inventory? How do you cover costs of refurbishment, labor, and service? When it comes to buying vehicles and parts, there's no room for error. If you don't buy right, you could be stuck with a vehicle that doesn't sell. If you buy too many vehicles or parts, you could end up with excess inventory that doesn't move. And if you don't buy right now, you could miss out on the best deals!
Are you buying right?
Buying right is essential for profit – especially if you are selling heavy-duty truck parts or used trucks online. Fortunately, their are options out there, like ITrack Pro, that provide the features and information you need to make smart decisions and increase profit.

Easily assess you inventory's value.
With ITrack Pro, you can quickly assess the value of your inventory based on multiple factors using smart technology to ensure you make purchases and price your inventory with data-driven confidence. To that end, ITrack Pro combines your sales history, auction values and competitive pricing and availability from HeavyTruckParts.Net. The bidding system combines this data to appraise vehicles and inventory to help you make smarter buying and pricing decisions.
You aren't flying blind with ITrack Pro.
Smart data and automatic bidding and appraisal ensures your team aren't "flying blind" when it comes to pricing your parts, vehicles, and services. In addition this feature can allow less experienced staff to take on more pricing and buying tasks possibly saving your operation labor costs and freeing your top people to focus on the important pursuit of more sales!
ITrack Pro allows you to manage your inventory in an organized way while also keeping track of maintenance work orders, sales orders, and more. It comes standard with many features that are designed specifically for heavy-duty trucking industry. Contact us and get a demo today to find out how ITrack Pro can help streamline and strengthen your organization and sales process.