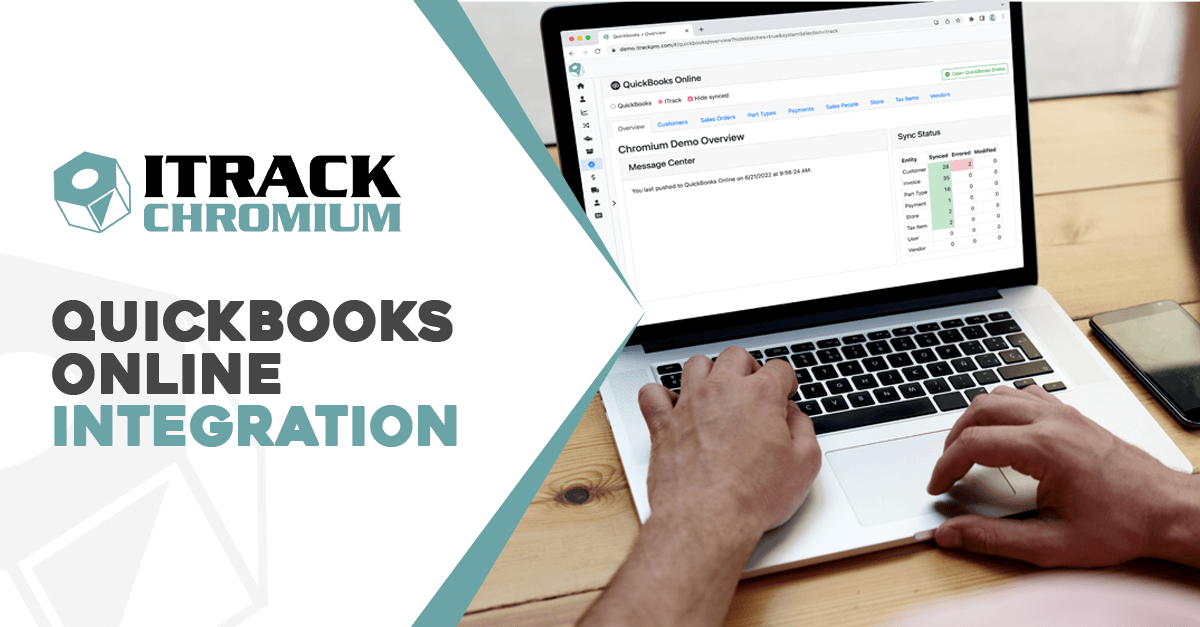 ---
Improve Efficiency with our QuickBooks Online Integration
Do you struggle keeping up with paperwork? Are you frustrated with having to enter the same information in multiple places? Not only can this be stressful, but manual entry can lead to user errors and typos. And errors and typos can cause you to lose money. 

Introducing the new ITrack Chromium QuickBooks Online Integration! With this integration, important information within ITrack is exported to your QuickBooks Online account. In most cases, it only takes the click of a button to export almost everything.
Information that you can export from ITrack Chromium to includes the following:
Customers
Sales Orders
Part Types
Payments
Sales People
Stores
Tax Items
Vendors
We've worked hard on providing a feature that will help quicken your accounting processes. Making sure to present in an easy-to-understand format. The ITrack Chromium QuickBooks Integration was designed to be simple, straightforward and most of all helpful.
Benefits of Using the QuickBooks Online Integration
Easy to get started! Just log in to QuickBooks Online from ITrack and start working. The Message Center in ITrack keeps you updated on what's been done and what needs to be done.
Export all of your ITrack invoices to QuickBooks Online with the push of a single button. ITrack exports all the additional information Quickbooks needs for you automatically.
Easily import customers and vendors from Quickbooks to ITrack, export them to Quickbooks from ITrack or match up what's already there!
Better filtering and record selection lets you search for just what needs to be addressed.
Check up on and update or correct records in either ITrack or Quickbooks from just one screen. No more juggling fixes and changes between two different pieces of software, you can do it all from one place!
Check Out Our Tutorial
Excited to get started? Learn better on your own? We've created a Chromium Tutorial course for you! The QuickBooks Screen course has only two lessons. The lessons go over setting up and using the new QuickBooks Online integration. It's a quick read that includes screenshots to help guide you.
Get A Demo
Not an ITrack Chromium customer yet? Let's talk and see if ITrack Chromium is right for you and your business!